Week of October 19, 2012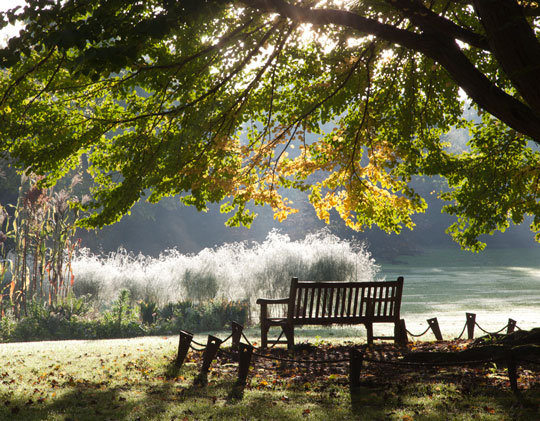 View of Cut Flower Garden from under Cercidiphyllum japonicum.
Photo by Lisa Roper
Iris 'Sunny Disposition' and Cosmos bipinnatus 'Rubenza' Brush Off Last Weekend's Frost for a Fall Hurrah.
Photo by Doug Croft
Soft clouds of pink Muhlenbergia capillaris and tan Panicum capillare soften the hill above The Pond.
Photo by Lisa Roper
Doug Croft assists the Associated Services for the Blind with fall cuttings at the Fairmount Park Horticulture Center.
Photo by Doug Croft
Impatiens omeiana, a hardy impatiens from China, blooms in The Asian Woods.
Photo by Lisa Roper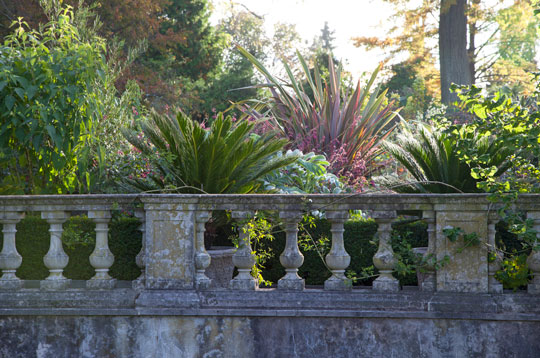 Cycas revoluta and Phormium 'Sundowner' put on their show above the balustrade at the Chanticleer Terrace Garden.
Photo by Lisa Roper
Brugmansia versicolor blooms outside the Sun Porch.
Photo by Lisa Roper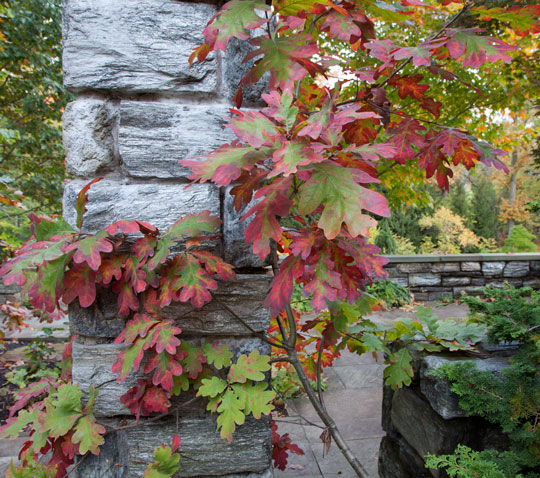 Quercus alba trained on The Ruin wall.
Photo by Lisa Roper
Agave attenuata 'Light of Day' grown in an urn, is surrounded by an array of silver leaved plants (Centaurea gymnocarpa; Lavandula x intermedia), purple flowering Salvia 'Ultra Violet' and the glowing orange Leonotis leonurus (dwarf form) in The Chanticleer Gravel Terrace.
Photo by Lisa Roper
Cornus controversa 'Variegata' catches the early light above the wall in the Tennis Court Garden.
Photo by Lisa Roper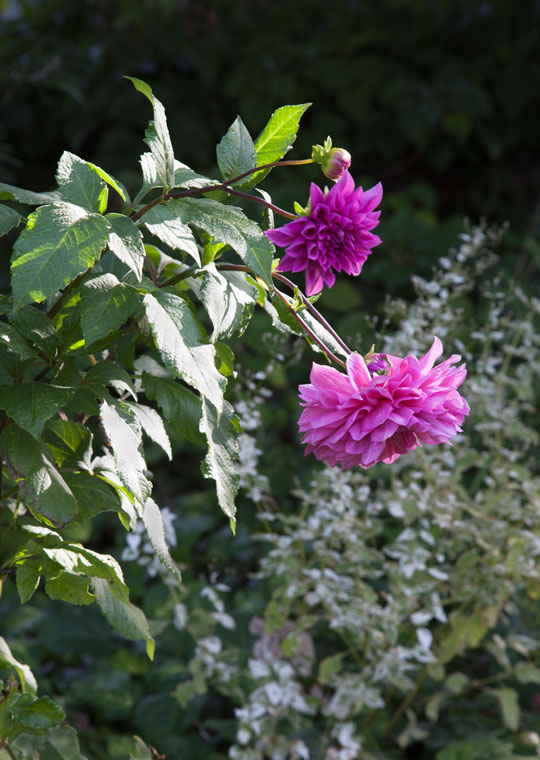 Dahlia 'Mrs. I. De Ver Warner', an heirloom dahlia from a Kentucky farmhouse, blooms near The Entry Garden.
Photo by Lisa Roper
Passiflora violacea (form #3) trails through Gomphrena 'Fireworks' at The Entry Pavillion.
Photo by Lisa Roper
Take a look at last seasons Highlights to help plan your visit this season...
Opening Times
Wednesday - Sunday

10am - 5pm


Early Openings in 2018

The garden will open at 8:00am on
October 6th, and November 3rd for our last two early openings of the 2018 season.


Full Parking Lot

Our parking lot holds 120 cars and can fill on weekends and busy days. Please car pool and understand once we reach capacity, you will need to wait until the parking staff directs you to an open spot or plan to visit at a non-peak time.


News & Events
Designing with Plants:
The Great Dixter Way
Fergus Garrett of Great Dixter will be speaking on Wednesday, Sept. 19. Tickets are limited,
reserve yours now
.
Perennial Plant Conference
The conference will be held at
Scott Arboretum on Friday,
October 19, 2018.
For more information see the
Perennial Plant Conference
website.
2018 Season Passes Now Available
Now available for purchase –
2018 Season Passes
!
The Art of Gardening
Chanticleer's book,
The Art of Gardening
, is available at book sellers everywhere, including
Amazon
.
Chanticleer In the News
High praise from
The New York Times
,
Chicago Tribune
,
Garden Design
,
St. Catharines Standard
, and
FlipKey by Trip Advisor
.