Week of April 27, 2012
A unique container display planted with succulents at The Ruin Garden.
Photo by Lisa Roper
Containers planted with magenta and cream Mattiola incana, or Stock, and Pericallis x hybrida 'Senetti Deep Blue', commonly called Cineraria stand in the center of the Gravel Circle.
Photo by Lisa Roper
Rosa hugonis beckons visitors to the lower entrance.
Photo by Doug Croft
Yellow Isatis tinctoria, or Woad and Allium 'Purple Sensation" blend in the foreground, while across The Pond Metasequoia glyptostroboides 'Ogon' glows chartreuse.
Photo by Lisa Roper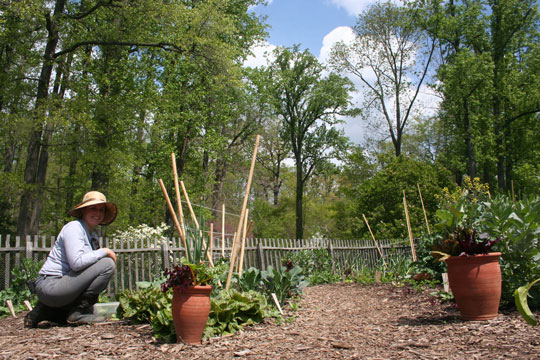 Raphaela Floreani Buzbee, summer intern, harvests flashy trout back lettuce in the Vegetable Garden.
Photo by Doug Croft
Viburnum macrocephalum and Tulipa 'Fringed Elegance' in The Bulb Meadow'.
Photo by Lisa Roper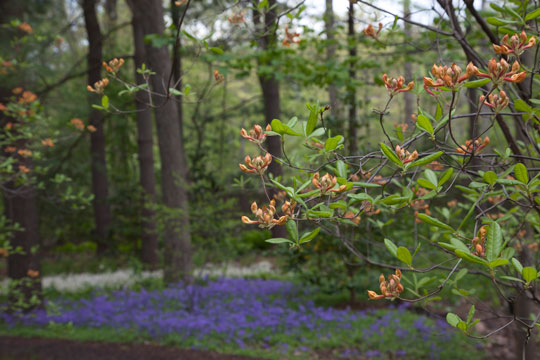 Rhododendron austrinum is in bud in Bells Woods and Phlox stolonifera 'Sherwood Purple' makes a big splash in the backround.
Photo by Lisa Roper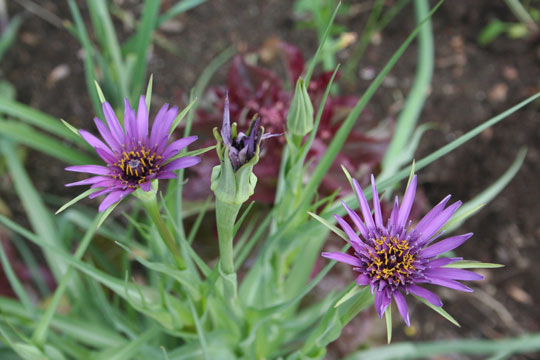 Tragopogon porrifolius, salsify, flowers in the cold frames.
Photo by Doug Croft
Rhododendron 'Windbeam' blooms on the path to The Ruin.
Photo by Lisa Roper
Take a look at last seasons Highlights to help plan your visit this season...
Opening Times
Wednesday - Sunday

10am - 5pm


Early Openings in 2018

The garden will open at 8:00am on
October 6th, and November 3rd for our last two early openings of the 2018 season.


Full Parking Lot

Our parking lot holds 120 cars and can fill on weekends and busy days. Please car pool and understand once we reach capacity, you will need to wait until the parking staff directs you to an open spot or plan to visit at a non-peak time.


News & Events
Designing with Plants:
The Great Dixter Way
Fergus Garrett of Great Dixter will be speaking on Wednesday, Sept. 19. Tickets are limited,
reserve yours now
.
Perennial Plant Conference
The conference will be held at
Scott Arboretum on Friday,
October 19, 2018.
For more information see the
Perennial Plant Conference
website.
2018 Season Passes Now Available
Now available for purchase –
2018 Season Passes
!
The Art of Gardening
Chanticleer's book,
The Art of Gardening
, is available at book sellers everywhere, including
Amazon
.
Chanticleer In the News
High praise from
The New York Times
,
Chicago Tribune
,
Garden Design
,
St. Catharines Standard
, and
FlipKey by Trip Advisor
.