Week of May 25, 2012
Scorzonera hispanica, black salsify, flowers in the Vegetable Garden.
Photo by Doug Croft
A meadow of Papaver rhoeas, the Flanders Poppy, Salvia nemorosa 'Caradonna' and Oenothera speciosa spill down the hill toward The Pond.
Photo by Lisa Roper
View to Chanticleer House from the Rock Ledge, with Papaver rhoeas, Silene armeria, Salvia nemorosa 'Caradonna' and Verbascum sp..
Photo by Lisa Roper
Waterfall in the upper pond, surrounded by Papaver rhoeas and the palmate leafed Napaea dioica.
Photo by Lisa Roper
Paeonia 'Old Faithful' brightens up a cloudy day in the Cut Flower Garden.
Photo by Doug Croft
Carnations on the mantel, and flowers floating in a container on the Sun Porch.
Photo by Lisa Roper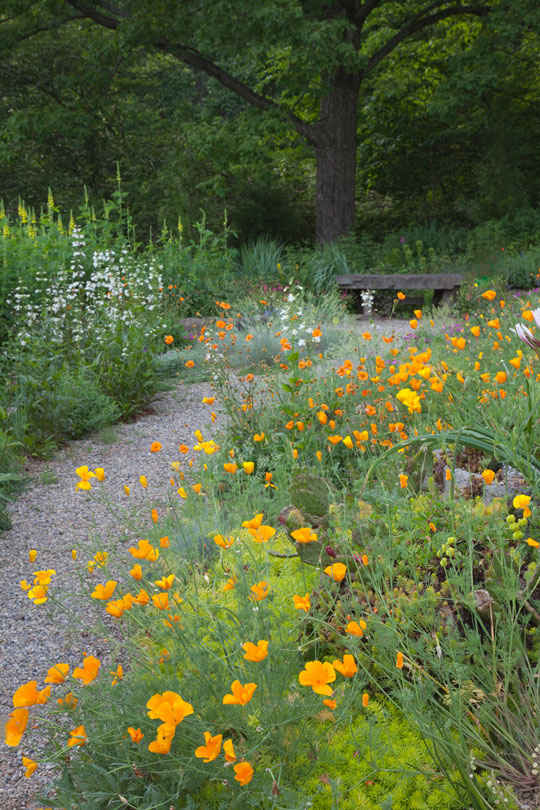 Eschscholzia californica, The California poppy lines a path above the Pond Arbor.
Photo by Lisa Roper
Carol Pollard assists with a total makeover of the Teacup Garden. Musa 'Black Thai' is underplanted with silver and puple foliage.
Photo by Lisa Roper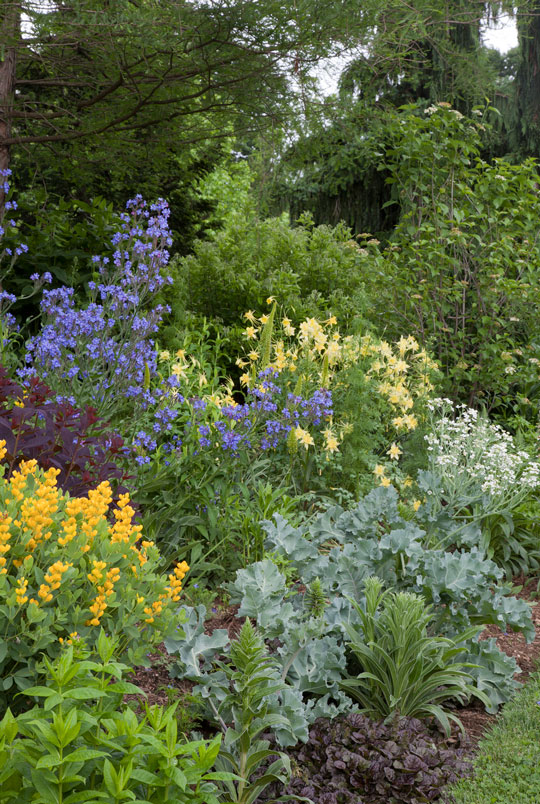 Baptisia sphaerocarpa 'Screaming Yellow', purple leafed Cottinus coggyria 'Velvet Cloak', deep blue Anchusa azurea, and Aquilegia chrysantha 'Denver Gold' are underplanted with grey leafed Crambe maritima on the Long Border.
Photo by Lisa Roper
Taxodium distichum var. imbricarium, the Pond Cypress, and a meadow of Sporobolus heterolepis line the path to The Ruin Garden.
Photo by Lisa Roper
Digitalis purpurea Excelsior Group surround the Visitor Pavillion.
Photo by Lisa Roper
Cardiocrinum giganteum var yunnanense, a plant in the lily family standing over 6 feet tall is in bloom in the Asian Woods.
Photo by Lisa Roper
Take a look at last seasons Highlights to help plan your visit this season...
Opening Times
Wednesday - Sunday

10am - 5pm


Early Openings in 2018

The garden will open at 8:00am on May 5th, June 2nd, July 7th,
August 4th, September 1st,
October 6th, and November 3rd during the 2018 season.


Full Parking Lot

Our parking lot holds 120 cars and can fill on weekends and Friday evenings. Please car pool and understand once we reach capacity, you will need to wait until the parking staff directs you to an open spot or plan to visit at a non-peak time.


News & Events
Chanticleer Lecture
April 29th, 3pm
Radnorshire Room
Radnor Township Building
301 Iven Ave, Radnor, PA 19087
Claudia West presents:
Wild and Neat: Bridging the Gap between Great Garden Design and Ecology
Free of charge, seating is limited.
Mother's Day News
Due to anticipated large crowds, there will be no picnicking on Mother's Day, Sunday, May 13th.
2018 Season Passes Now Available
Now available for purchase –
2018 Season Passes
!
The Art of Gardening
Chanticleer's book,
The Art of Gardening
, is available at book sellers everywhere, including
Amazon
.
Chanticleer In the News
High praise from
The New York Times
,
Chicago Tribune
,
Garden Design
,
St. Catharines Standard
, and
FlipKey by Trip Advisor
.