Week of June 24, 2011
A Redtail Hawk keeps a lookout on the Chantilcleer rooster.
Photo by Dennis Mathews
Hydrangea serrata 'Miyama Yae Murasaki', glows in the Asian Woods.
Photo by Lisa Roper
Coreopsis basalis, goldenmane tickseed, flowers along the Long Border..
Photo by Doug Croft
Redbor Kale serpentine in the vegetable garden.
Photo by Lisa Roper
A lily flower adorns the water carriers basin.
Photo by Lisa Roper
Lilium 'LA Sunset' in the forground and Schizophragma integrifolium, a hydrangea vine growing on the wall behind at the entrance garden.
Photo by Lisa Roper
Centaurea benoistii, the maroon cornflower blooms in the bed above the tennis court garden.
Photo by Lisa Roper
Most of the Barley in the Serpentine has been cut and raked into winrows.
Photo by Lisa Roper
Ipomea patensis, an annual Morning Glory Vine in the Teacup Garden.
Photo by Lisa Roper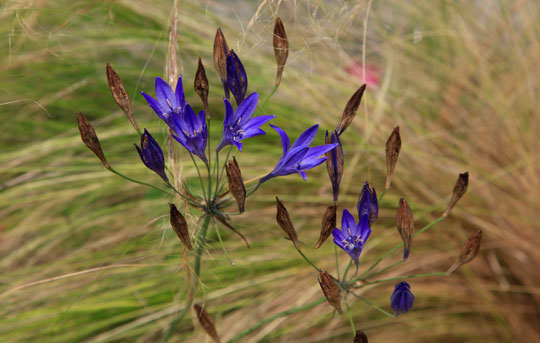 Tritellia laxa 'Queen Fabiola' on the sunsteps.
Photo by Lisa Roper
Take a look at last seasons Highlights to help plan your visit this season...
Opening Times
Wednesday - Sunday

10am - 5pm


Friday Evenings

Open until 8pm.
Due to limited parking, we cannot accommodate groups on Friday evenings.


Early Openings in 2018

The garden will open at 8:00am on
August 4th, September 1st,
October 6th, and November 3rd during the 2018 season.


Full Parking Lot

Our parking lot holds 120 cars and can fill on weekends and Friday evenings. Please car pool and understand once we reach capacity, you will need to wait until the parking staff directs you to an open spot or plan to visit at a non-peak time.