Week of August 12, 2011
Lobelia cardinalis and Kniphofia linearifolia create bright summer color in the Pond Garden .
Photo by Lisa Roper
Sium sisarum, skirrett, a root vegetable grows in the Vegetable Garden..
Photo by Doug Croft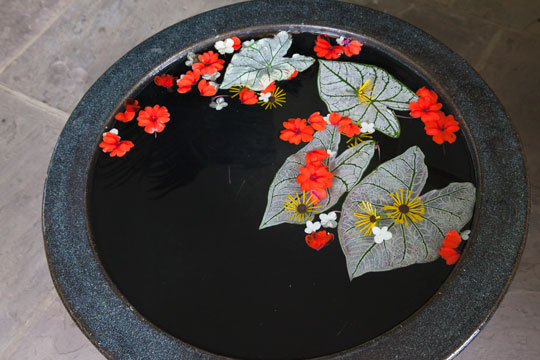 Floating flowers on the sun porch.
Photo by Lisa Roper
Zea mays 'Silver Queen' below the vegetable garden.
Photo by Doug Croft
Lagerstroemia 'Tonto' blooms deep pink on the Chanticleer Terrace.
Photo by Lisa Roper
Liatris aspera opens from the top down; blooming against a backdrop of Calamagrostis x acutiflora 'Karl Foerster'.
Photo by Lisa Roper
Take a look at last seasons Highlights to help plan your visit this season...
Opening Times
Wednesday - Sunday

10am - 5pm


End of Season

The garden will remain open until Sunday, November 4th, 2018.
Opening day for the 2019 season will be March 27th.


Early Openings in 2018

The garden will open at 8:00am on November 3rd for our last early opening of the 2018 season.


Full Parking Lot

Our parking lot holds 120 cars and can fill on weekends and busy days. Please car pool and understand once we reach capacity, you will need to wait until the parking staff directs you to an open spot or plan to visit at a non-peak time.