American Public Gardens Association Dinner
Chanticleer is not available for private events, this was a special evening party for a not-for-profit horticultural organiztion.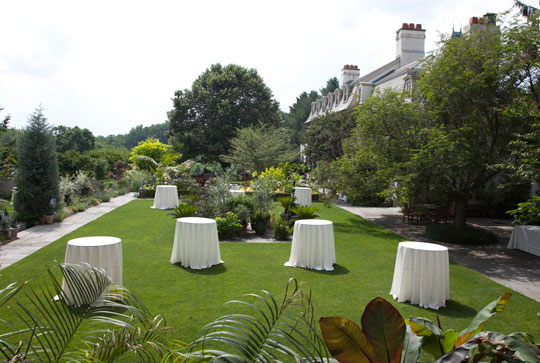 The calm before the storm... Cocktail tables on the Chanticleer terrace await the masses.
Photo by Lisa Roper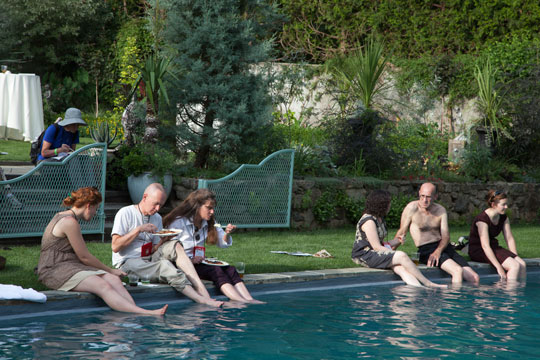 Guests dine pool side.
Photo by Lisa Roper
Mary O'Malley plucks her harp providing beautiful music on the terraces.
Photo by Lisa Roper
Exectutive Director, Bill Thomas, and gardener, Dan Benarcik, entertain guests on the top of the Chanticleer Hill.
Photo by Lisa Roper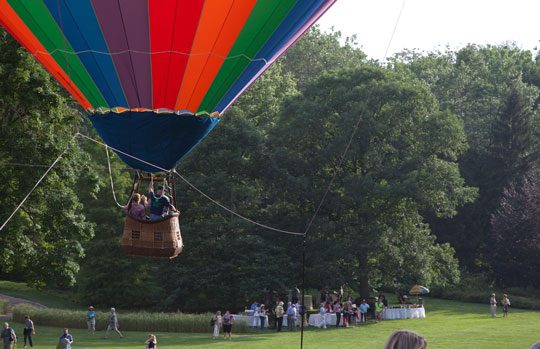 Surprise hot air ballon rides for the guests.
Photo by Lisa Roper
Guests depart the ballon after taking a new look at the garden.
Photo by Lisa Roper
Guests enjoy refreshments at food stations just below the serpentine.
Photo by Lisa Roper
Party guests relax on the West Lawn.
Photo by Lisa Roper
Happy Little Train Wreck takes a quick break from playing for a quick photo op.
Photo by Lisa Roper
Take a look at last seasons Highlights to help plan your visit this season...
Opening Times
Wednesday - Sunday

10am - 5pm


Friday Evenings

Open until 8pm.
Due to limited parking, we cannot accommodate groups on Friday evenings.


Early Openings in 2018

The garden will open at 8:00am on
July 7th, August 4th, September 1st,
October 6th, and November 3rd during the 2018 season.


Full Parking Lot

Our parking lot holds 120 cars and can fill on weekends and Friday evenings. Please car pool and understand once we reach capacity, you will need to wait until the parking staff directs you to an open spot or plan to visit at a non-peak time.