Week of May 14, 2010
Paeonia 'Terpischore' and Hyacinthoides hispanica.
Syneilesis aconitifolia and Polygonatum odoratum foliage.
Viburnum macrocephalum f. macrocephalum unerplanted with Hyacinthoides hispanica.
Self sowers in the gravel garden- Papaver rupifragum and Aquilegia vulgaris.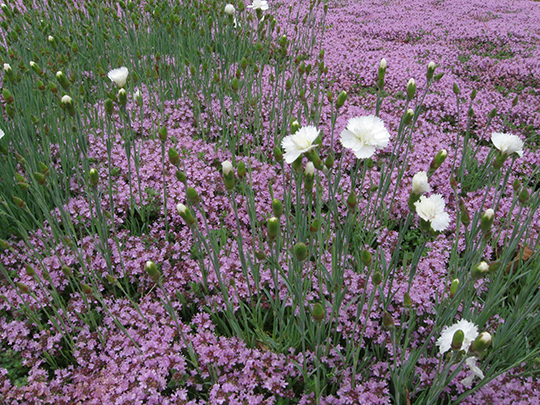 Dianthus 'Mendlesham Maid' growing with Thymus praecox ssp. Arcticus in the gravel garden.
Thymus praecox ssp. Arcticus sweeps through the gravel garden.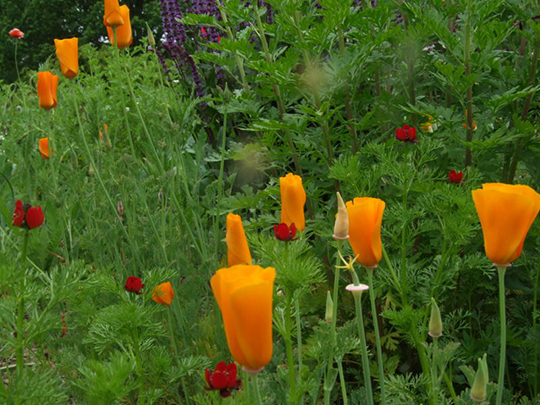 Escholtzia californica -mission poppy and the Pheasant's eye -Adonis aestivum on the rock ledge above the Pond Garden.
Cladrastis kentukea Yellowood in flower.
Iris Siberica 'Caesar's Brother' in a drift by the pond.
Take a look at last seasons Highlights to help plan your visit this season...
News & Event
Great Dixter Day in Rhode Island
Our English partner Great Dixter is hosting a
Gardener's Garden Party
in Rhode Island on June 5.
Limited Parking
Our parking lot may fill on beautiful days and on Friday nights. Please carpool and arrive early. If the lot is full, please circle the block until a space opens.
Follow us on Facebook