Week of October 28, 2011
Poncirus trifoliata, The Hardy Orange display its fruits near the picnic benches.
Photo by Lisa Roper
Urns planted with Alocasia x portora, and Annanas comosus var. variegatus on The Croquet Lawn At Chanticleer House.
Photo by Lisa Roper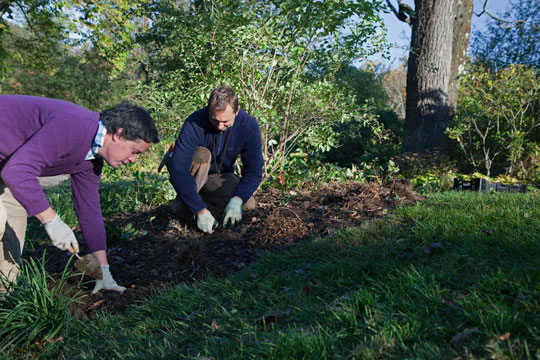 Aaron Bertelsen and Jonathan Wright Plant Epimedium above The Tennis Court Garden.
Photo by Lisa Roper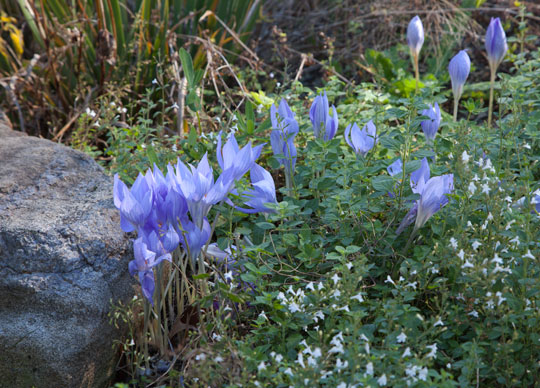 Crocus speciosus 'Conqueror', the Autumn crocus beside the pond.
Photo by Lisa Roper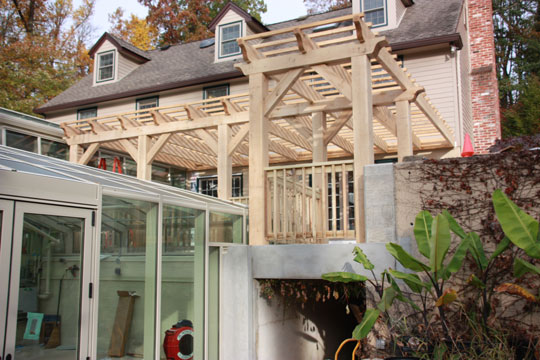 Shade structure to accompany the new greenhouse.
Photo by Bryan Christ
Salvia leucantha, Plectranthus argentatus and the silver foliaged Centaurea 'Colchester White' make a late season splash on The Upper Lawn Border at Chanticleer House.
Photo by Lisa Roper
Cirsium rivulare 'Atropurpureum', one of the most ormamental thistles in The Cut Flower Garden.
Photo by Lisa Roper
Take a look at last seasons Highlights to help plan your visit this season...
Opening Times
Closed for the Season
The garden will open March 29, 2023, and will be open until November 5, 2023, Wednesday through Sunday.
2023 Season Pass
Starting October 1, 2022, Chanticleer's 2023 Season Pass will be available for purchase.
Purchase a 2023 Season Pass
, good through November 5, 2023.
News & Events
Chanticleer Emails
Stay current -
Sign up
All Vaccinated!
We're pleased all Chanticleer staff and volunteers are vaccinated against COVID-19.
Chanticleer In the News
High praise from
6ABC
,
WNEP
, and
The New York Times
.